Community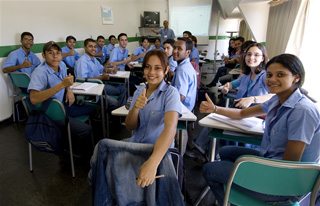 Renuka do Brasil believes that to guarantee the sustainability of business, its actions should provide the public with relations which promote a balance between economic, social, and environmental aspects of the organization.
The company, which is located in the Northwest region of the state of Sao Paulo, has direct influence on 24 municipalities in the region of mills Madhu and Revati, where they develop community projects:
Formare: A Project of the Iochpe Foundation which offers professional education to 20 youngsters between the ages of 16 and 18 coming from low income families, preparing them for entry in the labor market.
Action for Infancy: Improves attendance in schools for children up to 5 years old in the environmentally impacted municipalities in the region of the mills Madhu and Revati, seeking qualification and valorization of professionals, as well as didactic projects and classroom experience.
In case you need any clarification, want to make suggestions or complains, please write to: faleconosco@renukabrasil.com.br